On 10/21/2022, Students from Takahashi/Wan Lab Win Double in Two Categories of the 2022 IHI/SAMPE Japan Student Bridge Contest
 Category B (Peng Xue (D2), Yuanyuan Wu (Visiting D), Zhengyang Zhu (M2), Qiujun Wang (M1), Ayumu Uno (B4)), Category G (Weizhao Huang (D2), Zhiyu Wang (D1), Tomotaka Suzuki (M1), Fan Zhang (M1), Shingo Miyamoto (B4))
<Name of award and short explanation about the award>
The Society for the Advancement of Material and Process Engineering (SAMPE) Student Bridge Contest is an annual world competition (about 100 participating teams) for lightweight bridges made of fiber-reinforced composite materials. The University of Tokyo team won in two categories at the Japan preliminary round (17 teams participated) held on October 21, 2022.
<About awarded research>
The Todai team won Category B (in which carbon fiber, bridge shape, and forming method used are specified) for the fourth consecutive year, and won Category G (in which materials used, bridge shape, and forming method are not specified) for the first time. We will be sent to the world competition to be held in the U.S. next spring.
<Your impression & future plan>
We are very honored to receive these awards. We would like to express our deepest gratitude to the people in our laboratory for their support in helping us win these two awards. We expect that many teams will bring their state-of-the-art bridges to the 2023 World Championships after Corona leaves, but we will continue to make improvements and aim to win prizes.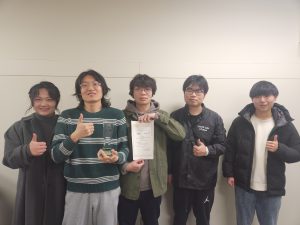 Category B

Category G