【Awards】Mr. Xiaohang Tong (D1) of Takahashi Laboratory received the Best Student Presentation Award and Mr. Ruochen Xu (D1) received the Student Presentation Award at the 17th Japan International SAMPE Symposium and Exhibition on December 3, 2021.
〈About awarded research〉
Title of the Best Student Presentation Award:
Preload relaxation in bolted carbon fiber reinforced thermoplastics joints
Outline of the research:
Research on efficiently manufacturing lightweight and low-cost structures using multi-materials is accelerating due to the electrification and automatic operation of mobile objects. This research clarified the phenomenon of decrease in bonding force, which is a problem when bolt-bonding CFRTP to metal materials, through experiments and simulations.
Title of the Student Presentation Award:
Prediction of tensile strength distribution of CFRTP-SMC by Monte Carlo simulation
Outline of the research:
Continuous fiber CFRP has been successful in small-scale production of large structures such as aircraft, but CFRP made of discontinuous carbon fiber and thermoplastics is indispensable for mass production of small semi-complex structures such as passenger cars, robots and drones. In this study, we clarified the cause of variation on the strength by Monte Carlo simulation, and clarified the manufacturing method of the structure with higher strength and less variation by eliminating the low strength factor.
〈Your impression & future plan〉
Xiaohang Tong:It is an honor to receive this award, and I would like to express my appreciation to professor Takahashi and all the lab members who are involved in this research for their kind support. In the future, I will continue to work hard on the research and try to do my best.
Ruochen Xu:I am honored to receive this Student Presentation Award. I would like to thank all the people who supported me in this research. I hope to devote myself to my research in the future.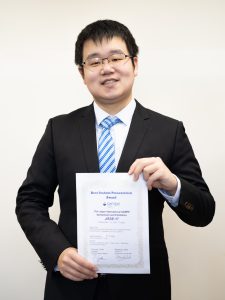 Xiaohang Tong:Bset Student Presentation Award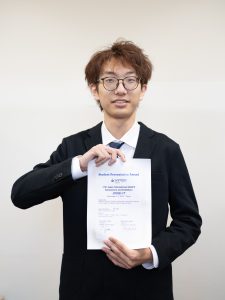 Ruochen Xu:Student Presentation Award