High-Performance Intelligent Simulations and Design of Human-Artifacts-Environment Harmonizing System and Society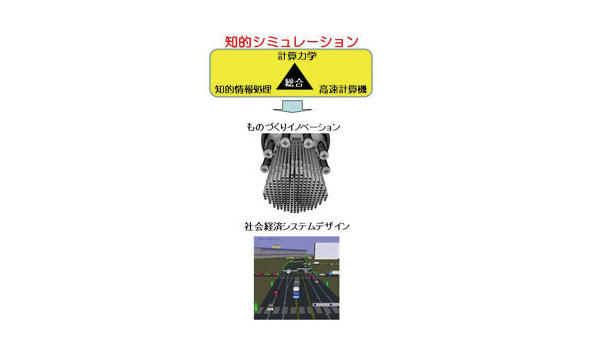 High Fidelity Computational Mechanics Simulations and MONODUKURI Innovation
We have been developing ultra-large-scale computational mechanics simulation software, ADVENTURE system running on Petaflops to Exaflops scale supercomputers. We have been studying simulation-based design of large-scale and complex artifacts towards MONODUKURI innovation.
Intelligent Multi-Agent Simulations and Design of Social Systems
We have been developing intelligent multi-agent simulations. By precisely modeling human being as intelligent agent and interacting a number of the agents, we try to reproduce human society precisely. We have been developing the next generation traffic simulator MATES to build resilient traffic system for future society.
Mechanical Systems Innovation Based on Biomimetic Mechanics
As flapping flight of insects and birds, living things behave very efficiently as well as effectively utilizing coupled mechanics. However, human beings have not understood or utilized such mechanism yet. We have been developing advanced multiphysics computational mechanics simulations to precisely reproduce flapping flight and innovative micro-air vehicles.